Community Science
Put your passion for birding to work for birds and their habitats
Community Science is a great way to connect with the natural world through fun activities that generate vital information for bird conservation. This partnership benefits us all: you will learn about birds by taking part in these science-based activities, and Audubon's science staff gains valuable information that informs our conservation, advocacy, and engagement work.
Anyone can be a scientist. Check out the opportunities below and get involved today!
Community Science Opportunities
* = Good for beginning birders
** = Intermediate level birding skill needed
*** = Advanced-level birding skill needed
The first online community science project to collect data on wild birds and to display results in near real-time. For at least 15 minutes on one or more days of the count, simply tally the numbers and kinds of birds you see. You can count from any location, anywhere in the world, for as long as you wish!
Community scientists play a critical role in gathering crucial data on a scale not otherwise possible! Join Audubon in-person or virtually for an orientation to Pinyon Jays and to a simple protocol. We have a spectrum of engagement opportunities from birding in your neighborhood to visiting a pre-defined survey block.
Birdathon *
Birdathon is an important annual fundraising and community science event that involves Audubon Southwest's staff, volunteers, and supporters in bird watching for a continuous 24-hour period and collecting pledges from generous sponsors like you! It isn't necessary to bird watch for the full duration of 24 hours, just a portion of the day can be fun and helpful. Birdathon takes place in mid-May, often coinciding with Global Big Day. For more information about this year's count, contact Suzy Santaella at suzy.santaella@audubon.org
December 14–January 5. The nation's longest-running community science bird project fuels Audubon's work throughout the year. Tens of thousands of volunteers throughout the Americas brave snow, wind, or rain, and take part in the effort to count birds in designated areas to assess the health of bird populations, and to help guide conservation action.
A tradition among birders, this day challenges bird watchers to record as many species as possible in 24 hours. Like the Great Backyard Bird Count, people can spend as much time as they like, anywhere they like, counting birds and submitting a checklist to eBird.
Facilitated by the Tucson Audubon Society, the goal of the count is to document bird use of undersurveyed areas of Tucson in an effort to make the city a place more welcoming to birds. Birders choose a designated route and conduct a count during a single morning.
Volunteer birders across North America count certain bluebirds, goldfinches, nuthatches, and more in the same place (or places) twice each year. By sticking to a scientific protocol and sharing their results, these community scientists help track whether birds are moving in accordance with projections from Audubon's climate models.
Opportunities are available for beginners and experts alike, with the majority of counts and surveys taking place in Southern Arizona. Volunteer birders can participate in teams and typically have guidance from a trip leader. Protocol varies by individual survey/count.
Since 2010, we and our partners at the Tucson, Sonoran and Prescott Audubon Societies have been heading into the field each summer to monitor cuckoos. The data collected has helped to fill in gaps in natural history knowledge, inform best practices for land managers, and keep track of the southwest's cuckoo population.
Western Yellow-billed Cuckoo Survey Training Registration now open for 2023!
For experienced birders. Spring and early summer surveys are conducted to identify all breeding birds in a given area following standardized protocol, and the data gathered is used to inform population trends and science products like the annual State of the Birds Report.
How you can help, right now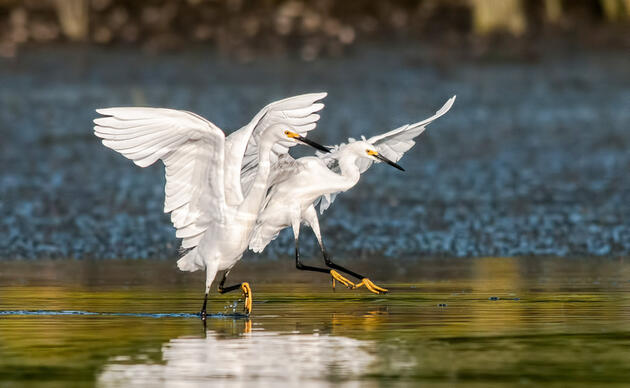 Donate
Help secure the future for birds at risk from climate change, habitat loss, and other threats. Your support will power our science, education, advocacy and on-the-ground conservation efforts.