Internships and Careers
As the regional office of the National Audubon Society, covering Arizona and New Mexico, Audubon Southwest works to ensure the region's full diversity of birds and people thrive—through wise use and protection of our water resources, by restoring and securing bird habitats on working lands, and by implementing measures to mitigate and adapt to a changing climate. We achieve success through a unique blend of science, education, on-the-ground conservation delivery, and policy advocacy that has made Audubon a conservation leader in the Southwest.
Job positions open on an individual basis, while internship opportunities open seasonally. We welcome you to volunteer with us if there are no open positions you're interested in.
Open positions at Audubon Southwest
All applicants must apply via the icims website for National Audubon Society. Applications and resumes sent to the Southwest office will not be considered
Position Summary
Audubon Southwest (ASW) is seeking a Communications Manager. This person will create and implement communication strategies in support of ASW's mission, brand, and conservation strategies in New Mexico and Arizona. Reporting to the Executive Director of ASW, the Communications Manager will primarily focus on digital outreach and engagement related to Audubon Southwest education, development, conservation, and advocacy strategies through email, social media engagement, and website management.
The ideal candidate is detail oriented, thrives in a fast-pasted environment, and passionate about engaging the public through social media, email campaigns, and other digital communication channels. This is an exciting time to join Audubon Southwest.
Compensation: $70,000 / year
Position Summary
The Senior Education Coordinator will provide nature education to Phoenix youth as a lead naturalist guide and program coordinator at the Nina Pulliam Rio Salado Audubon Center. The core functions of this position include coordinating our school programs, including K-8th grade field trips and in-classroom presentations, service-learning opportunities, and community programs at the Nina Mason Pulliam Rio Salado Audubon Center.
Additionally, the Education Coordinator will help recruit and manage our Center volunteers, seasonal interns, along with the Center and Audubon Education team.
Compensation: $43,000 / year
Apply HERE
Equal Employment Opportunity Statement
The National Audubon Society is a federal contractor and an Equal Opportunity Employer (EOE). All qualified applicants will receive consideration for employment without regard to race, color, religion, sex, sexual orientation, gender identity, national origin, disability or protected veteran status. We are committed to a policy of nondiscrimination, inclusion and equal opportunity and actively seek a diverse pool of candidates in this search.
Accessibility Statement
The National Audubon Society endeavors to keep our careers site accessible to any and all users. If you would like to contact us regarding the accessibility of our website or need assistance completing the application process, please contact Accommodations@audubon.org. This contact information is for accommodation requests only and cannot be used to inquire about the status of applications.
COVID Policy
All new hires must be fully vaccinated prior to their start of employment unless they are pre-qualified by HR for exemption.
How you can help, right now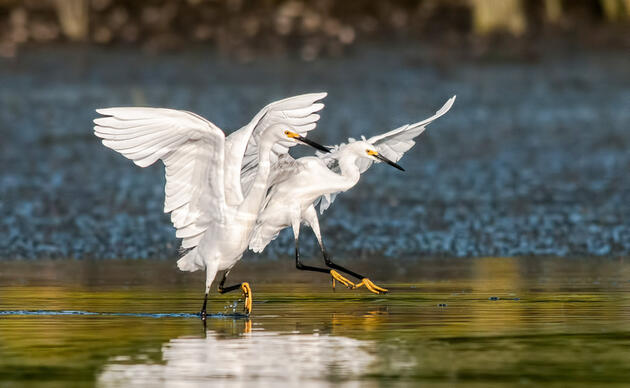 Donate
Help secure the future for birds at risk from climate change, habitat loss, and other threats. Your support will power our science, education, advocacy and on-the-ground conservation efforts.