Protecting one of the Intermountain West's most iconic species
The Pinyon Jay (Gymnorhinus cyanocephalus) is an iconic bird of the intermountain west and was once common throughout the Pinyon-Juniper woodlands of northern Arizona and New Mexico, southern Utah, and portions of Nevada and Colorado. This colonial species' diet is comprised largely of Pinyon Pine nuts and the species can be quite nomadic in pursuit of this favored food. Long term drought, climate change, and habitat conversions have resulted in astonishing Pinyon Jay population declines. From 1967–2015, populations fell by 3.69% annually for an estimated total loss of 83.5%
It would seem ironic that as Pinyon-Juniper trees encroach into some grasslands, Pinyon Jays, specialists in this habitat type, are languishing precipitously. Although the specific reasons for this decline remain unclear, it is likely that Pinyon trees are suffering from long-term drought, increasing temperatures, and other climatic shifts. Research suggests that these changes are leading to pinyon pines that produce fewer nuts. The birds seem to be ranging further from historic colony sites and might be relying more heavily on other food sources such as juniper berries and insects. Meanwhile, land managers find themselves in a double bind needing to both preserve grasslands and protect Pinyon Jay habitat. Guidelines for grassland preservation with an eye to the jay are lacking.
How to help:
You don't have to be an expert birder to help. Sign-up here! Community scientists play a critical role in gathering crucial data on a scale not otherwise possible! Join Audubon in-person or virtually for an orientation to Pinyon Jays and to a simple protocol. We have a spectrum of engagement opportunities from birding in your neighborhood to visiting a pre-defined survey block.
Attend our upcoming events and celebrate the Pinyon Jay with craft mead:
The Pinyon Jay is an iconic and declining bird of the intermountain west, but what does it have to do with mead? Two things: water and climate. Dependent on thriving agriculture and reliable water, the future of your favorite brew, just like the Pinyon-Juniper woodlands and the Pinyon Jay, depends on us acting now to protect precious natural resources. To help spread the word, Flagstaff's Drinking Horn Meadery is releasing "Oh Hey Pinyon Jay" mead for the second year! To celebrate the Pinyon-Juniper woodlands, they are brewing with juniper berries, prickly pear, and local honey – and bottles sport Pinyon Jay conservation labels. In addition to great mead, each bottle provides a call to action and a sign-up link where folks can go to join our growing team of community scientists.
We hope you'll join us in raising a glass for this deserving bird!
RSVP for any/all events here.
October 19, 2023, 6-7:30 pm – Pinyon Jay Presentation and Mead Tasting at Drinking Horn Mead Hall: Swing by the mead hall and enjoy a natural history presentation by experts Dr. Russell Benford of the Arizona Department of Forestry and Fire Management and Ms. Anne Pellegrini of Northern Arizona Audubon. Drink some mead and connect with your community!
October 21, 2023, 8-10am – Pinyon Jay Bird Walk Location TBD, please RSVP. Come explore Pinyon-Juniper woodlands near town with Northern Arizona Audubon guides and learn local plants, birds, and other animals. No experience necessary!
November 1, 2023, 6-8:30 pm - Trivia Take-over at Drinking Horn Mead Hall: Join Audrey Kruse from the Grand Canyon Trust for a lively and fun-filled trivia night focused on Colorado Plateau flora and fauna, as well as birds, bands, and popular culture. Something for everyone and free admission!
Ready to get started now? You can!
Join Great Basin Bird Observatory's data hub by building a free profile. (Use "_ASW" in your username, and we will add you to the Audubon Southwest Pinyon Jay Monitoring Group. Username example: "PeterPinyon_ASW")
Download Esri's free Survey 123 app on your smart phone (available at your favorite app store) and log in with your Hub username and password. Once you are added to the ASW group, you will automagically have access to our data intake form
Read over the data collection instructions
Record your sightings, or lack of sightings. You can survey anytime, in any Pinyon-Juniper woodland or adjacent area.
New this Fall: help us map pinyon pinecone productivity!
Pinyon pine nuts for the cornerstone of the Pinyon Jay's diet, but throughout their range, pinyon pines are suffering from long-term drought, insect infestations, and fire. We need YOUR help to map productive trees and have developed a simple protocol and phone app to make this easy! You can read the protocol here and get the data intake form by joining the data hub (directions above). If you are already a hub member, the data form should be available to you for download. Our first cone productivity workshop will be on September 10 in Santa Fe, see below for more info and to sign-up. Note that workshop attendance is NOT mandatory, but we will review the bird survey protocol as well. Sign-up here.
Upcoming Training Workshops:
No workshops are currently scheduled. Check back soon or contact Cathy Wise at cathy.wise@audubon.org for more information.
Supporting Organizations:
How you can help, right now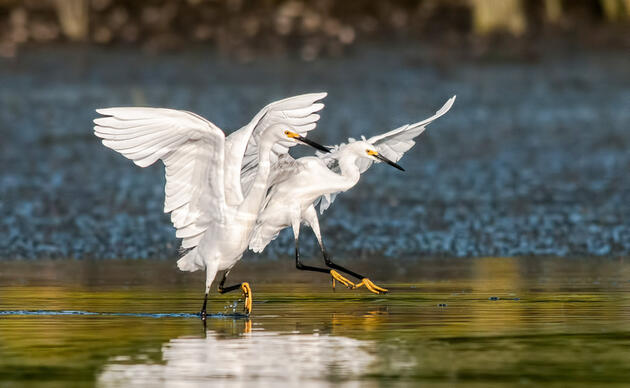 Donate
Help secure the future for birds at risk from climate change, habitat loss, and other threats. Your support will power our science, education, advocacy and on-the-ground conservation efforts.