Because birds are relatively conspicuous and easy to observe (compared to other animals), they are ideal indicators for monitoring environmental change. Most birds have specific habitat requirements, and changes in habitat can result in changes in the birds that use the area. Arizona is amazingly diverse—from mountains and moist canyons to grasslands and deserts. These different places generate astonishingly high animal diversity. Arizona is famous for our number of native bird species. In fact, according to a study conducted by Natureserve Arizona ranks third in the country for the most bird species (and that's while landlocked). The grasslands, especially in the southeastern part of the state, provide a home for a unique assortment of birds.
These guides will help you make the most of your land for birds and other wildlife. Get started by checking out the guides below!
Grasslands: This guide will help you create healthy habitats for birds and other wildlife, as well as people. Healthy grasslands stabilize soils to moderate soil erosion, help keep water tables high, contribute to healthy water quality, and provide a biologically rich environment. Grasslands can be a source of forage for cattle and other livestock and are an important part of Arizona's agriculture economy. Download the guide here. (Click here for a high-resolution version)

Rivers, Streams, and Desert Washes (Arizona): This guide will help you ensure that Arizona's waterways remain healthy. Keeping riparian areas healthy is important for many reasons. Riparian vegetation helps control flood events, it stabilizes river banks, traps nutrients and soil, and improves water quality. It provides shade, moderates temperatures, and helps keep the water table high. Riparian areas provide multiple uses and enjoyment to people. Download the guide here. (Click here for a high-resolution version)

Rivers, Streams, and Desert Washes (Grand Valley, Colorado): This manual describes how to proactively improve riparian habitat for bird species in Mesa County, Colorado. This guide was made possible by a grant from the Bird Conservancy of the Rockies and was produced by RiversEdge West, with help from the Grand Valley Audubon Society, Tucson Audubon Society, and Audubon Arizona.

How you can help, right now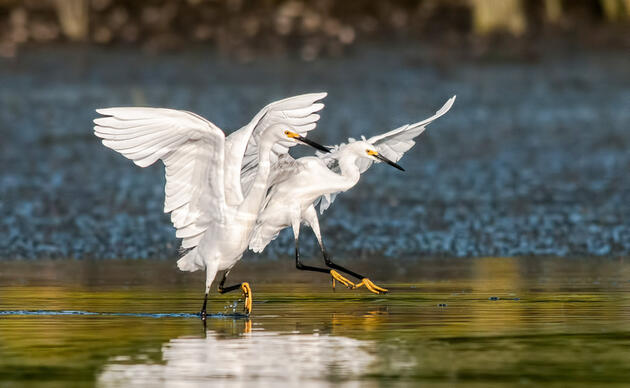 Donate
Help secure the future for birds at risk from climate change, habitat loss, and other threats. Your support will power our science, education, advocacy and on-the-ground conservation efforts.