Support Our Work
Sponsoring an Audubon Arizona event, activity, or program is a great way to promote your business to a new and diverse audience.
The Nina Mason Pulliam Rio Salado Center, two miles south of downtown Phoenix, attracts a wide variety of people: families with young children, college students, downtown professionals, outdoor enthusiasts, birdwatchers, retirees, and many others. Given its location, events and programs generally encourage high Latino attendance through bilingual materials and signage. Our website, e-mails, and social media channels reach about 14,000 people and make thousands more impressions annually—and our reach grows daily! Be part of our success and have some fun in the process!
Benefits of sponsoring
your logo included in multi-media event promotional materials, such as flyers, website, etc.
recognition on Audubon Arizona's well-trafficked website and social media channels
opportunities to meet and greet attendees of the event
opportunities to distribute promotional items
tax deduction
association with the national reputation of the National Audubon Society
that great feeling that comes from meeting a community need!
other promotional opportunities as negotiated with Audubon Arizona
Sponsorship/Support Opportunities Available
Enchanted Trail / Sendero Encantado
A weekend of family fun where children get a rare glimpse of a restored desert habitat by night while learning about Arizona's nocturnal wildlife. The goal is to introduce environmental education in a fun and culturally-competent way to the underserved South Phoenix community, inspiring children and adults to develop feelings of caring for the environment. 2,000 attendees each year learn about nature through hikes, scavenger hunts, live animals, crafts, and much more, led by Audubon experts in a beautifully-restored 600-acre wildlife refuge.
Birds n' Beer
Our signature after-work event: Offered free on the third Thursday of the month, Birds 'n Beer brings together working professionals, conservationist leaders and volunteers, ASU and community college students, retirees, and many others for networking, a lively and entertaining presentation, and craft beer. Birds n' Beer routinely receives multi-media coverage and acclaim, including the Arizona Republic's "Things to do" section and a Phoenix New Times "Best Of" Award.
Animal Encounters
A family-friendly education program featuring live birds presented by Liberty Wildlife. Attendees see live animals up close and learn about their behaviors. The second Saturday of the month, October-April. Admission is free.
For more information on becoming a sponsor, contact Jan Holmes at 602.468.6470 ext. 102 or jan.holmes@audubon.org.
How you can help, right now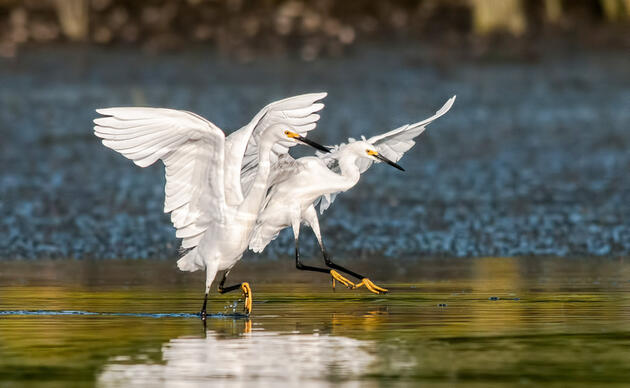 Donate
Help secure the future for birds at risk from climate change, habitat loss, and other threats. Your support will power our science, education, advocacy and on-the-ground conservation efforts.