This year we saw the impact and influence of the Audubon Southwest team and membership grow by leaps and bounds. Our steadfast advocacy in support of southwestern ecosystems and the birds that depend on them and our commitment to finding solutions for our most vexing conservation challenges have positioned us as a lead conservation organization in the region. In 2022, we also saw the triumphant return of in-person education programming and public visitation at our centers after two long years of a global pandemic.
Tragically, the Audubon Southwest family also lost one of our own this year with the passing of Center Director Genaro Ruiz. As we mourned the loss of our friend, our commitment to making the Southwest a place where people of all backgrounds can find enrichment by being in nature was strengthened. We honor the loss of Genaro by carrying on this work in his memory. Please read on to see how 2022 was a significant year for Audubon Southwest's work.
Southwest Audubon Centers Attract National Leaders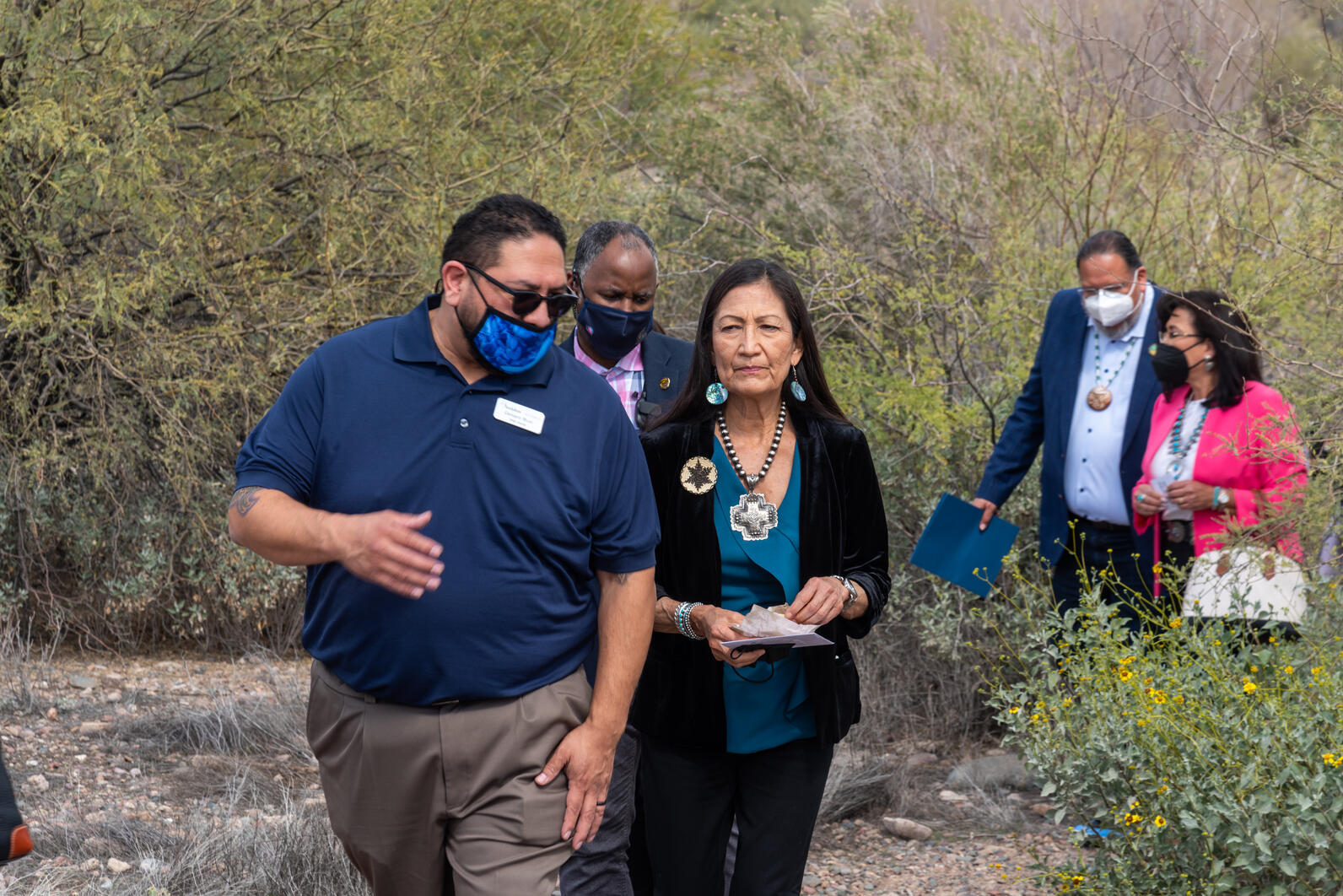 As sites where conservation science, education, and advocacy converge, our Randall Davey and Nina Mason Pulliam Rio Salado Audubon Centers attracted a number of high-profile visitors this year. Most notably, members of President Biden's Cabinet, Secretary of Interior Deb Haaland and Secretary of Transportation Pete Buttigieg, both visited the Rio Salado Center in Phoenix to discuss major federal partnerships and investments in the region. Senator Martin Heinrich spent the morning with us exploring the Randall Davey Audubon Center and Nature Discovery Area in Santa Fe while learning about the Pinyon Jay and our efforts to protect it. Both sites played host to gatherings of influential leaders this past November, highlighted by the release of the Rio Grande Report Card at the Randall Davey Center, and our Water Policy Forum that attracted a bipartisan group of elected officials and decision-makers including Former AZ House Speaker Rusty Bowers (R) to our Rio Salado Audubon Center. These visits show the role our centers play as sites to teach, learn, and advocate for conservation action by connecting decision-makers to natural and human communities.
Growing Our Influence
Outside the work at our centers, our influence on the most important resource issues facing the southwest is growing. In New Mexico, our own Paul Tashjian (Director of Freshwater Conservation) and Judy Calman (NM Policy Director) have been asked to serve on Governor Lujan-Grisham's Water Policy and Infrastructure Task Force as the sole environmental organization representatives. And in Arizona, Haley Paul (AZ Policy Director) recently joined Senator Kyrsten Sinema's Water Advisory Council tasked with finding workable solutions to the state's ongoing drought. Of course, we continue to educate state legislators on conservation topics and bring the full strength of the Audubon network to bear on the issues where we focus. In the past year over 25,000 Audubon Members took action in response to our Action Alerts. The result: a historic investment of $440 million by the state of Arizona into water conservation and reliability projects around the state and new protections for the Lesser Prairie Chicken, one of the most imperiled bird species in the world.
Oh Hey, Pinyon Jay
Through partnerships with Drinking Horn Meadery (Flagstaff, AZ) and Bosque Brewery (Bernalillo, NM) this year we released two specialty brews under the Oh Hey, Pinyon Jay label as an innovative approach to recruiting new conservationists. On each label of Oh Hey, Pinyon Jay there is a QR code that links to a sign-up page for our volunteer Pinyon Jay data collection--an effort that is being undertaken to help us better conserve this at-risk bird species. Through this unique approach we have been able to reach new audiences for our work and bring new supporters into the fold who want to take action to protect a beloved species.
Education programs are back
After two long years of the pandemic virtually shutting down in-person programming, our education programs came roaring back in a big way with an activity-packed summer at the Randall Davey Center in Santa Fe and a slate of both beloved and creative new programs being offered at the Rio Salado Center in Phoenix. With these programs back in full swing, we are able to reach thousands of students and community members each year with high quality STEAM education and impactful conservation lessons.
Urban Wildlife Conservation Day: Signing the Phoenix Urban Bird Treaty
Alongside Phoenix Mayor Kate Gallego and US Fish and Wildlife Service Regional Director Amy Leuders, Audubon Southwest was a signatory on the Urban Bird Treaty for Phoenix on behalf of Audubon Southwest. This agreement solidifies Phoenix's commitment to providing habitat for the 300+ bird species that make their home in the city. It also opens the door to future funding from the federal government to support urban wildlife conservation. This treaty is a major step forward in making Phoenix and the Southwest a region where both birds and people thrive. It was our extreme privilege to sign on to this effort and support the conservation leadership being provided by the Mayor and Regional Director.
None of these successes would have been possible without the continued support of you, our membership. We work on your behalf to make sure Arizona and New Mexico are places where birds and people want to live and thrive. We appreciate you, and the commitment you have made to protecting the birds we love and the places they need.
Happy Holidays and Seasons Greetings from the entire team at Audubon Southwest.