In the arid West, we are all connected by rivers; they are the lifeblood of our land, our economy, and our way of life.
THE SITUATION
All western rivers, like the Rio Grande, the Colorado River, and their tributaries, provide water for millions of people and sustain our local food supply. In addition to providing clean water and protection from floods, healthy rivers also support abundant game and wildlife and underlie our multi-billion dollar recreation and tourism economy. When healthy, rivers provide a front-line defense against extreme weather events in an era of climate change.
Unfortunately, the health of these rivers, and the people and wildlife that depend on them, are in jeopardy. The future of our western communities and economies surrounding the rivers are uncertain. As the increasing value of water has outpaced the value of food and land, some farmers have no choice but to sell their water rights away from green river valleys. Many sales transfer water to upstream urban centers, often diminishing streamflows between the cities and rural communities. But, while water scarcity breeds conflict, it also breeds opportunities.
THE OPPORTUNITY
Audubon believes that people are at the heart of solutions to water scarcity and sustainable water management. Our work to change attitudes about how we use, manage and value water is centered on building trusted relationships and collaborative partnerships to achieve conservation victories at scale.
We accomplish conservation through a multi-pronged strategy of market-based solutions, policy reform, engagement, on-the-ground conservation and education. Our work is grounded in science, in innovation and collaboration. In short, Audubon delivers balanced conservation programming from backyards, to schools, to legislatures.
AUDUBON'S SOLUTIONS
Where birds thrive, people prosper. Audubon's work is centered on birds because they are a crucial link in the chain of life. The vast distances they travel and exposure to diverse ecosystems make them unique barometers of Earth's health and, here in New Mexico, specifically the health of our rivers. Many of the birds that depend on healthy rivers, streams and springs, like the Yellow-billed Cuckoo and Bell's Vireo, are in decline.
How you can help, right now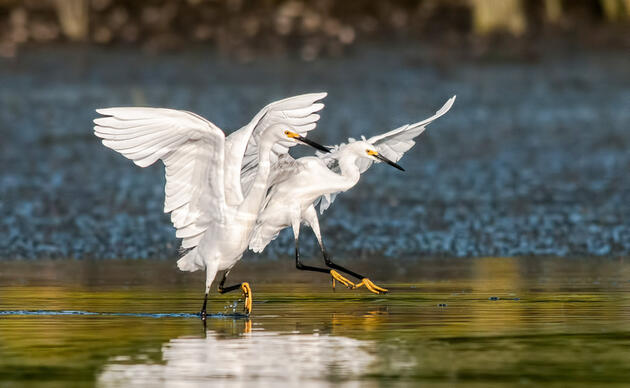 Donate
Help secure the future for birds at risk from climate change, habitat loss, and other threats. Your support will power our science, education, advocacy and on-the-ground conservation efforts.