All presentations are held at the Appleton-Whittell Research Ranch (366 Research Ranch Road, Elgin, AZ 85611)
For directions, please email or call the Ranch at 520-455-5522)
RSVP REQUIRED

Bring adult beverages and a dish to share. We'll provide tea, coffee and place settings. Don't forget to bring a friend!
2015 – 2016 Schedule:
September 12, 2015, 5 pm: Join Hugh Grinnell for: The Expeditions and Discoveries of George Bird Grinnell, Father of Glacier National Park & Founder of the First Audubon Society.
October 10, 2015, 5 pm: Join Dennis Moroney, BS in Animal Science/Agriculture and Owner of 47 Ranch for a presentation on grass fed beef operations.
November 14, 2015, 5 pm: Kenneth "Tuk" Jacobson, Raptor Management Coordinator at the Arizona Game & Fish Department, will discuss the status of Bald and Golden eagles.
January 9, 2016 5 pm: Greg Joder, a wildlife conservation professional, will take a look at Laysan Albatrosses and USFWS research at Midway Atoll.
February 13, 2016, 5 pm: Join Jeff Sorenson, Native Fish & Invertebrates Program Manager at the Arizona Game and Fish Department, for his presentation: "Snails in the desert? Yep, Arizona is home to hundreds of gastropods."
March 12, 2016, 5 pm: Take a look at wells and water with Gary Hix, a water well consultant and professional geologist with In2Wells, LLC.
April 9, 2016, 5 pm: Learn about the avian impacts of shrub encroachment with Arizona State University's School of Sustainability's Erik Andersen.
May 14, 2016, 5 pm: Join Melissa Amarello for her presentation: "Living with Rattlesnakes."
How you can help, right now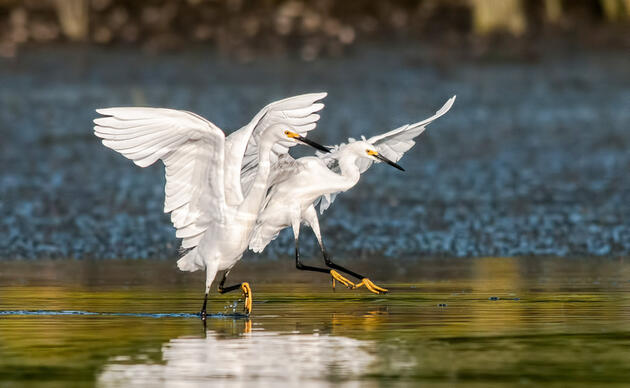 Donate
Help secure the future for birds at risk from climate change, habitat loss, and other threats. Your support will power our science, education, advocacy and on-the-ground conservation efforts.