About Us
Board of Directors
Our Board of Directors are ambassadors for Audubon's work in New Mexico, bringing relevant expertise, ideas and issues to support our mission.
Chris Graeser, Chair
Chris Graeser is an attorney in Santa Fe focused on land use, real estate, property tax, and occasional cases of interest. In his law practice, Chris represents individuals and organizations concerned with disproportionate or inadequately planned development and its associated habitat loss. In this role, he supports efforts to defend conservation easements, prevent large-scale mining, and focus growth in suitable areas. His efforts through groups like the Community Development Commission, Capital Improvements Advisory Committee, and Neighborhood Law Center promote a combination of land use policy, regulation, and infrastructure improvement to foster a vibrant human environment that complements the natural ecosystem. From western Massachusetts, Chris made Santa Fe his home over twenty years ago. He enjoys hiking, camping, and exploring New Mexico's hidden treasures with his family.
Will Bussey
Will is a native of Colorado, prior resident of Maine, and a current Santa Fe, NM resident of 19 years where he has been a top producing Realtor since 2013. He holds an environmental studies degree from The George Washington University, in Washington, D.C. and is from a lineage of environmental stewards, including his late Grandfather who served as a Park Ranger in Yellowstone NP, Rainier NP, Glacier NP, and finally as Superintendent of Black Canyon/Gunnison Gorge in Western Colorado.
Will is drawn to Audubon's "common-sense goals of working with everyone on conservation challenges, particularly with water, which requires ALL of us to work together." As an intern in his 20's for the Forest Stewardship Council in Washington, D.C., he learned that the power of inclusive dialogue with all perspectives involved is the key to successful and positive changes in human emotion and behavior. His love for birds and the endemic species that have evolved over millions of years, is one of incredible awe and respect that he enjoys sharing with his family, and in particular his ten-year-old son, Liam.
Christine Castro
Christine Castro has 25 years of experience leading corporate communications, investor relations and marketing / brand functions for some of the world's most prominent brand-name companies in the entertainment, technology and health sciences industries. Previously she was Vice President, Corporate Communications for The Walt Disney Company; Chief Communications Officer, Yahoo! Inc.; Senior Vice President, Corporate Relations, Genentech, Inc.; and Senior Vice President, Communications for CBS Corp. She sits on the Boards of Creative Startups, Cancer Foundation of New Mexico, and the Upper Canyon Road Neighborhood Association. Chris also has significant experience interacting with an array of governmental and regulatory bodies, including local, state and federal government; state and federal lawmakers; and regulators.
Chris enjoys having the opportunity to contribute more consistently and directly with the conservation issues Audubon New Mexico is working on and looks forward to expanding her knowledge of bird species. She is a film geek who also loves cycling and hiking.
Alex Hanna
Alex Hanna is a designer, and a marketing and branding consultant. His company, Invisible City Designs, specializes in high quality print work and creative direction. Clients include The Georgia O'Keeffe Museum, The Museum of New Mexico Foundation, NM Office of Substance Abuse / NMBHSD, The Gant Aspen, DeVargas Center, and Save Water Santa Fe.
Alex graduated from Yale University with a degree in Art History. After teaching in China and on the East Coast for 5 years he moved to Santa Fe to work as head of marketing and design for Nedra Matteucci Galleries. He founded Invisible City Designs in 2007.
Alex has most recently served as Chair of the Santa Fe Arts Commission where he helped oversee spending of the 1% Lodgers Tax for the arts to support non-profit art groups and cultural tourism in Santa Fe. He previously chaired the Business Council of the Museum of New Mexico Foundation, was president of the Yale Association of New Mexico and served on the Executive Committee of the Santa Fe Community Foundations Envision Fund.
Alex's mother lives in Tucson and is an avid birder and environmentalist who continues to inspire him.
Tom Jervis
Tom Jervis is a retired educator and research scientist having worked at the Los Alamos National Lab for over twenty years. He has taught physical science and environmental studies at the university level and spent many years doing research in materials science at Los Alamos. He holds a bachelor's degree in physics from Colorado College and a Ph.D. in Applied Physics from Cornell University. As an avid birder, he has long been associated with the Audubon Society, serving in many positions at the local, state, and national levels. Mr. Jervis works with the Audubon Society on statewide conservation issues and is an active member and former President of the New Mexico Audubon Council. Additionally, he serves on the U.S. Forest Service's advisory group for the Collaborative Forestry Restoration Program and serves on the New Mexico Game and Fish Department's advisory committee called Share with Wildlife. He is working on documenting the life of William Gambel, a naturalist who passed through Santa Fe in the mid-1800s.
Megan Ruehmann, Vice-chair
Megan is a wildlife biologist for the consulting group Eagle Environmental, Inc. She brings over 15 years of technical expertise and experience to the Audubon New Mexico Board, with the majority of that time focused on field ornithology. She received her B.S. in Conservation Science from the College of Santa Fe in 2000, where a professor sparked her interest in bird song identification, and then earned her M.S. in Wildlife Science from New Mexico State University in 2008. Megan has worked for federal and state agencies, non-profit organizations, and consulting companies, enabling a broad understanding of species conservation and land management practices. She has been involved in management and survey efforts for many species of conservation concern such as Greater Sage-grouse, Lesser Prairie-chicken, Bald Eagle, Golden Eagle, Mexican Spotted Owl and Peregrine Falcons. She and her husband John live in Silver City, where they are usually found chasing a rare bird or endemic plant, backpacking or planning their next adventure.
How you can help, right now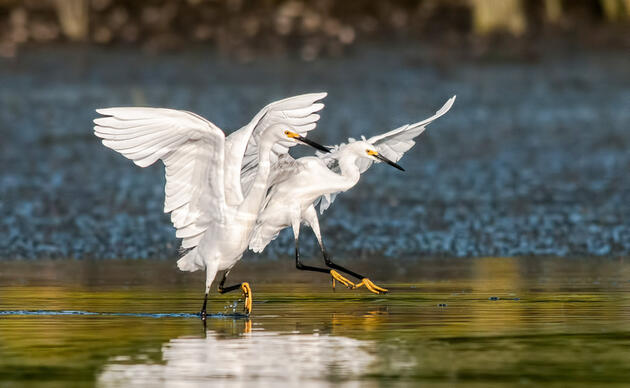 Donate
Help secure the future for birds at risk from climate change, habitat loss, and other threats. Your support will power our science, education, advocacy and on-the-ground conservation efforts.