Mission Statement:
Audubon Arizona's mission is to protect birds and the places they need, today and tomorrow, using science, advocacy, education, and on-the-ground conservation.
Vision:
We envision an Arizona with a rich and diverse natural heritage, where there is ample habitat for birds and other wildlife, where a majority of its people appreciate and participate in their natural environment, and whose children are educated and motivated to become the conservation leaders of tomorrow.
Activities:
Audubon Arizona was created out of the need felt by national Audubon and local chapters for an organization focused not primarily on bird watching but on protecting bird habitat and the environment as a whole and on engaging diverse citizens in that effort. The main goals of its strategic plan accomplish habitat conservation through a scientific and well-reasoned approach to conservation issues, to foster a culture of conservation by providing high-quality nature education programs, and to be an effective voice for the conservation of birds, other wildlife and their habitats. Audubon Arizona accomplishes these goals through collaboration with a vibrant, active network of Arizona chapters.
Headquarters for Audubon Arizona is the Nina Mason Pulliam Rio Salado Center on the south side of the Salt River at Central Avenue in Phoenix. Located in the midst of the 600 acre City of Phoenix Rio Salado Habitat Restoration Area on what was the site of an industrial dump, it exemplifies what can be done with areas severely blighted by past disregard of the environment.
The Nina Mason Pulliam Rio Salado Audubon Center's location is ideally suited for carrying out one of Audubon Arizona's principal goals: exposing urban young people to nature—on the theory that unless they are exposed to the beauty and complexity of the natural world, they will have no inclination to protect it as adults. To that end, the Center offers continuing field trips and out-of-school programs and prepares nature-awareness materials for teachers' use in the classroom.
The designation and monitoring of habitats that are important to birds in Arizona is a major responsibility shared by the Arizona Game and Fish Department and the Tucson Audubon Center. So far, 46 sites, located in every part of the state, in every ecological situation, have been designated Important Bird Areas, four of which are also designated International Important Bird Areas.
Audubon Arizona has responsibility for the Appleton-Whittell Research Ranch, an 8,000 acre spread 60 miles southeast of Tucson presently operating as a combination wildlife refuge and grassland ecology laboratory.
Audubon Arizona is funded from grants from public and private organizations, and contributions from individual donors.
How you can help, right now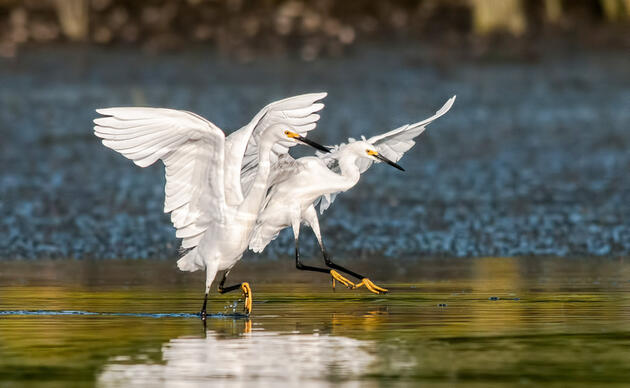 Donate
Help secure the future for birds at risk from climate change, habitat loss, and other threats. Your support will power our science, education, advocacy and on-the-ground conservation efforts.