Investigate, play, and discover at our new nature play area and treehouse.
PLEASE NOTE, WE WILL BE CLOSED THE FOLLOWING DATES AND TIMES: MON, FEB 20TH.
The Randall Davey Audubon Center is excited to welcome our Santa Fe community to the Nature Discovery Area (NDA). There is no admission fee to visit the Audubon Center, trails, or NDA. Donations are greatly appreciated. The space is currently in soft-opening phase, while we finish installing additional elements and establish operating procedures.
The play area is currently open Monday through Saturday from 9:00am to 4:00pm. The Audubon Center and NDA are closed on holidays and occasional special events. Check here and our Facebook page for upcoming closures.
Key details (see below for more details):
Please use Audubon's main parking lot, located at the very end of Upper Canyon Road. Please do not park at the entrance to the service road below the Nature Discovery Area.
Audubon's parking lot and upper parts of the treehouse are locked daily at 4:00pm. On holidays, the Audubon Center and treehouse will be closed. For up-to-date information on treehouse closures, sign up for our newsletter and follow our Facebook page.
Visitor information, trail maps, and public restrooms are available at our entrance, next to the main parking lot.
Please pack out all your trash and food. There are no trashcans. Please remember you are visiting a wildlife sanctuary, and any trash or food crumbs are risks to the bears, deer, foxes, bobcats, and birds that live here.
Please supervise and support your children. This area is intended for outdoor exploration, where kids can play, learn about nature, and move their bodies. There are different levels of challenge and risk throughout the space. Children should be supervised at all times while visiting the NDA.
Where can I park?
Please park in the main Audubon Center parking lot, located at the very end of Upper Canyon Road. This free lot is open 8am-4pm, Monday through Saturday.
Please do not park at the entrance to the service road below the Nature Discovery Area. We require 24-hour access at the service road entrance for emergency vehicles, staff, and volunteers. Please be mindful of where you leave your vehicle, as Upper Canyon Road is very narrow and accidents are very common. Parking for the NDA is available in the visitor parking lot at the end of Upper Canyon Road.
Is the Nature Discovery Area accessible?
The ramp onto the large observation deck is designed to be wheelchair friendly and is ADA compliant. There is handicap parking available in the main lot. There is a brick and flagstone path between the lot and the NDA, as well as a gravel driveway that borders the play area. Seating is available in our wildlife garden, as well as under the shade structure, adjacent to the treehouse. If you have additional access concerns, please feel free to call us and we are happy to assist.
What is the Nature Discovery Area?
The NDA is an outdoor play space for families, students, campers, and the community on the southern end of the Randall Davey Audubon Center & Sanctuary property. The goal of this project was to provide Santa Fe families with a place to get outside and explore nature together. We hope that users will enjoy playing in the treehouse, but also constructing forts, digging in the sand, wildlife viewing, and whatever else they can imagine.
There are several new additions to this area, including a treehouse, shaded picnic area, seed library, sand area, and spaces to climb and explore. Family programs will be offered beginning in Spring 2022. To find out more about upcoming events, sign up for our newsletter and follow our Facebook Page.
When was it constructed?
We have worked with a handful of amazing, creative contractors to develop the NDA including Groundwork Studio, Bonsai Design, and Westwind Landscape Construction. The treehouse construction was completed by Bonsai Design in July 2021.
Who paid for the Nature Discovery Area?
This project was made possible by a variety of community members who donated in support of nature play. Major support comes from the Brindle Foundation, Dumke Foundation, and more. We are still raising funds to help finalize additional play elements, as well as support public programming in the space. If you'd like to be a part of this project, please contact our Development Manager, Suzy Santaella, at suzy.santaella@audubon.org.
Can I rent the treehouse?
We are still evaluating the community usage of the space. We do rentals of our classroom, Henderson Pavilion, and lawn for weddings, meetings, and special events. If you book a rental with us, we can discuss private usage of the treehouse during your event.
Upcoming Closures:
Thanksgiving Break, November 25-28, 2021
Winter Break, December 20, 2021-January 31, 2022
How you can help, right now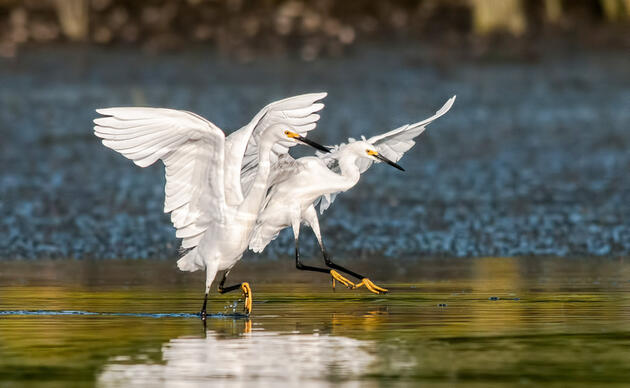 Donate
Help secure the future for birds at risk from climate change, habitat loss, and other threats. Your support will power our science, education, advocacy and on-the-ground conservation efforts.