No Experience Required—Simple Tools to Achieving Change. Practical suggestions for writing, phoning and emailing congressional offices
Communicating with a Member of Congress
Letters, Faxes and Emails
Personal handwritten letters are still the most effective means of communicating with a member of Congress. But if you don't have the time to write and mail a letter, consider sending a fax or email instead. Whichever method you choose, the same suggestions apply for composing your message:
State the reason that you're writing in the first paragraph. If you're writing about a particular bill, refer to the bill by its number, for example, S. 1020 or H.R. 1100.
Make two or three strong factual points to support your position.
Briefly state why this issue matters to you. If it affects you, a family member or your community directly, say so.
If applicable, make a brief connection to the member. For instance, if you voted for him or her, worked for his or her campaign, or would like to support this member of Congress in the future, include that information.
Clearly state the outcome you expect, e.g., that you want your senator or representative to support a project in your state or district, or to vote a certain way on a bill.
Be courteous (but of course you already knew that).
Above all, keep it short -- preferably no longer than one page. Members of Congress and their staffs are extremely busy, and lengthy messages are less likely to be completely read.
Phone Calls
Don't expect to speak to your actual senator or representative on the phone; instead you'll most likely speak with a member of his or her staff. When you call:
Ask to speak with the staff member who handles the issue or bill in which you have an interest.
Identify yourself, and identify the issue with which you are concerned. If it's a specific bill, identify the bill by its S. or H.R. number.
Briefly state your reason for calling. For instance, "I'd like to know Representative X's position on H.R. 1100." Or, "I'd like Senator Y to know that I strongly oppose S. 234 because ______."
If you would like a reply from your congressperson, let the staff member know.
Keep the call short and courteous. Remember to thank the staff member for his or her time.
Writing an Effective Letter to the Editor of your Local or Statewide Newspaper
Writing a letter to the Editor (LTE) of your local or statewide newspaper is an effective way to reach a large audience and catch the attention of decision makers. The editorial page, where LTEs appear, is one of the most read pages in the paper. Members of Congress and their field staff will keep a close watch on LTEs to keep a pulse on the issues their constituents care most about. Here are some tips to help you write an effective letter and help get it placed:
Follow the paper's directions. Information on how and to whom to submit a letter-to-the-editor is usually found on the same page that LTEs appear on. Instructions usually specify a word limit and request that you include your name, telephone number and mailing address.
Be timely. LTEs that are written in response to an article or recent event should be submitted within two or three days of publication or occurrence.
Specifically reference the article or event. Begin your letter by citing the original story by name, date and author or identifying the event or occurrence you are writing about.
Make explicit reference to any legislator or corporation you are hoping to influence. If your letter includes a legislator's name, in almost all cases staff will give him or her the letter to read personally. Corporations also monitor the media. Be sure if you are trying to influence a legislator or corporation that you include their full name in the letter.
Keep your letter short, focused and interesting. Stay focused on one or two main points. State your main point in the first two sentences. Letters that include relevant personal experience and local connections tend to be more persuasive and compelling. Long letters may be edited or worse, not printed at all.
Write the letter in your own words.
Make a call to action and support your position. Open your letter by endorsing or refuting the point made in the original story or event. Use the next few sentences to back up your point of view and advocate for your position. Try to focus on the positive. Wrap up your letter with a call to action or what you think needs to happen next.
How you can help, right now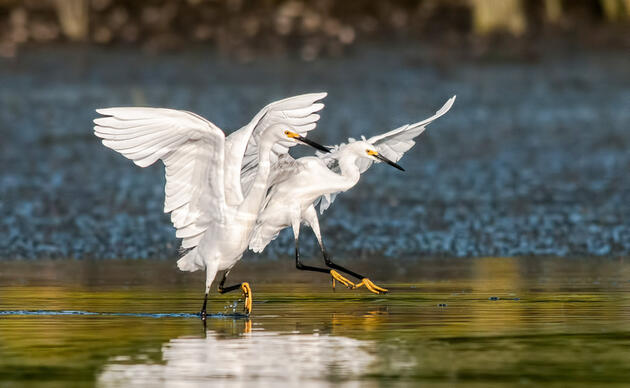 Donate
Help secure the future for birds at risk from climate change, habitat loss, and other threats. Your support will power our science, education, advocacy and on-the-ground conservation efforts.