Audubon has developed a new market-based approach to restore and enhance imperiled grasslands throughout the American West for the benefit of grassland birds, ranching families and the communities that depend on them.
Grasslands are among the most altered and imperiled ecosystems in the world—and one of the least protected. These critical ecosystems are dwindling at an alarming rate. With the decline of grassland habitats comes the decline of grassland and arid land birds, which have suffered steep, consistent population loss over the last 40 years—more than any other group of birds. As a result, grassland birds have suffered an unparalleled decline over the past half century. This calls for Audubon's action.
To combat the negative effects of grassland degradation---and to keep grass on the landscape---Audubon has developed the Conservation Ranching program. This market-based conservation approach offers incentives for good grassland stewardship through a certification label on beef products. For the first time, consumers can contribute to grassland conservation efforts by selectively purchasing beef from Audubon-certified farms and ranches.
The program in New Mexico signed its first ranch, Ranney Ranch. With this collaboration, we aim to enhance millions of acres of grassland bird habitat. For each ranch like Ranney Ranch, a Habitat Management Plan is developed that benefits target grassland bird species. To learn more about Ranney Ranch and Audubon's Conservation Ranching program, watch this video.
Regenerative grazing practices are adopted that mimic past grazing by bison. Pastures are allowed to rest and recover, resulting in a diversity of grassland vegetation across a ranch. To be certified, each ranch must also meet program protocols related to Forage and Feeding, Animal Health & Welfare, and Environmental Sustainability. Animals in the program must spend their entire lives on grasslands. Feedlots are not allowed, and growth hormones and antibiotics are strictly prohibited.
The Audubon certification seal is expected to bring a broad market appeal that should enhance demand by consumers that want options for beef that is sustainably raised and benefits wildlife habitat.
​​To support Audubon's conservation efforts to restore grasslands for the benefit of birds, purchase Ranney Ranch beef certified under the Audubon Conservation Ranching program, contact Skarsgard Farms at 505-681-4060 ​.
America's Central Grasslands and Avian Biodiversity:
The shortgrass prairie in eastern New Mexico is part of the central grasslands of North America. The central grasslands harbor a rich biological diversity. It is considered one of North America's most endangered ecosystems and least protected landscapes in the United States. Grassland birds, as a group, are experiencing steep population declines. Since the 1970's, many species have declined more than 50% and several key species that winter in New Mexico Chihuahuan Desert grasslands have declined more than 80%. To that end, Audubon New Mexico recognizes the importance of restoring their habitats, and the plight of grassland birds is inextricably linked to the ranching culture.
Within eastern New Mexico, Audubon has designated over 2 million acres of grasslands as a Globally Important Bird Area for the Lesser Prairie-Chicken. The New Mexico Lesser-Prairie Chicken Complex is also home to other declining grassland species such as Cassin's Sparrow, Scaled Quail, and Western Meadowlark. These species and other New Mexico grassland dependent birds have been identified as surrogates for overall grassland biodiversity. Their presence is indicative of the health of the State's grasslands.
Many of the ecological processes that sustain the shortgrass prairie ecosystem including native grazers, such as bison and black-tailed prairie dogs, and fire have been eradicated or suppressed. Human disturbances – including overgrazing, agricultural conversion, oil and gas extraction and wind-power development – are contributing to the loss, degradation and fragmentation of New Mexico's remaining intact native grasslands. Appropriate grazing by domestic cattle, along with other management practices, is an important tool to restore the health of shortgrass prairie habitat.
Partnering with Ranchers
More than half of the historical and occupied range of prairie-chickens in eastern NM is privately owned. Given that substantial grassland habitat is in private hands, Audubon feels it is essential that we work in partnership with and for the benefit of ranchers if we are to conserve the bird species we are most concerned about. The goal of Audubon is to promote sustainable ranching practices that foster thriving wildlife and grasslands, economic stability, and preserve traditions and a way of life for the ranching community.
Audubon recognizes the importance of working with New Mexico ranching families in partnership for conservation outcomes at scale.
Ranchers enrolled in Audubon's Conservation Ranching program adopt Audubon production protocols and implement a Habitat Management Plan that benefits local grassland birds. Typically, these plans outline steps to diversify pastures, control invasive plants, and implement a rotational grazing approach that produces patchy, diverse cover across the land. In recognition of the adoption of these management practices, Audubon will provide technical assistance to participating ranchers in production and rangeland ecology and use its network to build consumer awareness and interest in the program and in their Audubon certified pasture-raised beef.
Ranchers can learn more about this program, by reviewing the program's FAQs.
How you can help, right now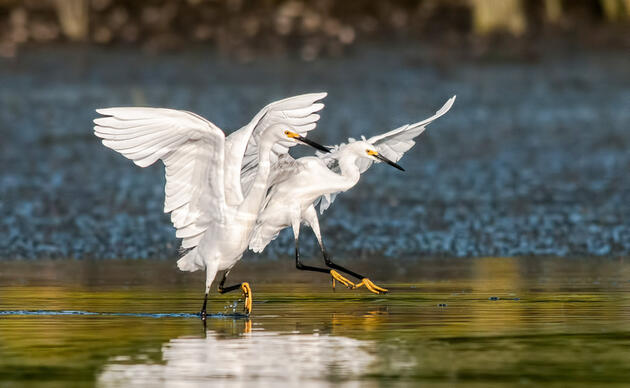 Donate
Help secure the future for birds at risk from climate change, habitat loss, and other threats. Your support will power our science, education, advocacy and on-the-ground conservation efforts.