About Us
Meet the Staff
Audubon New Mexico's staff works closely to provide social and environmental solutions for our birds, wildlife and you.
Jonathan (Jon) Hayes, Executive Director
​Jon has strong conservation expertise through his professional experience at multiple levels in public service. Over the last decade, Jon has built strong partnerships between public and private organizations to provide scalable conservation outcomes across multiple types of ecosystems. He has specifically focused on meaningful programs that conserve native bird species and the habitats they rely on.
Jon served with the U.S. Fish and Wildlife Service for the Great Plains Landscape Conservation Cooperative where he was responsible for guiding multi-organizational development and implementation of applied research projects. In this capacity, he coordinated landscape-level cooperative projects in a six-state region amongst federal agencies, state wildlife agencies, and multiple non-profit organizations focused on improving conservation effectiveness in western grassland and riparian ecosystems. Additionally, he has served with Texas Parks and Wildlife Department and the Oaks and Prairies Joint Venture (OPJV), working at a programmatic level to implement regional conservation efforts aimed at restoring declining grassland bird populations. Among his achievements in this role was the development of the OPJV Grassland Restoration Incentive Program, which was responsible for the improvement of grassland habitat quality on over 60,000 acres of private working lands in Texas.
Jon holds a Bachelor of Science in Environmental Population and Organismic Biology from the University of Colorado and a Master's of Science in Natural Resource Conservation from the University of Montana.
Meghan Baker, Education Coordinator, Randall Davey Audubon Center
Meghan grew up in rural Northern California close to the sea and the redwoods, where she gained a deep appreciation for wilderness and wildlife. She had the great fortune of interning and working at a School of Performing Arts and Cultural Education which fostered a passion for social justice and education. Drawn to the landscape, Meghan attended university in the Pacific Northwest, receiving a degree in Interdisciplinary Studies from Western Washington University. She developed a course of study combining her interests in social and environmental justice with education and art.

Meghan has over ten years of experience working with youth, including as a nutrition educator, stage manager, art teacher, and theatre director. She believes in a hands-on approach to educating and works to make learning engaging, inclusive, and fun. Thrilled to be a part of Audubon Southwest as a member of the educational team, she looks forward to promoting science learning and concepts of stewardship with youth. When not working, Meghan enjoys hiking and backpacking, making ceramics and paintings, reading copious amounts of books, making bad jokes, and eating good food. Her favorite animals change constantly, but at the moment she is particularly enamored with crows and elk.
Carl Beal, Center Director, Randall Davey Audubon Center & Sanctuary
Carl has held several positions with Audubon New Mexico since 2009, and has been in the role of Center Manager of the Randall Davey Audubon Center & Sanctuary since 2015. In this role, he has an incredible array of responsibilities. Carl is responsible for managing the beautiful grounds and trails surrounded by protected open space, tending to the Historic Randall Davey house and art studio including the historic art and furniture collection, maintaining the several buildings onsite to include the state office and education center, and being the friendly face for local visitors as well as those who visit from around the world. He feels very fortunate to be a steward of this piece of Santa Fe and New Mexico legacy.
Miranda Butler-Valverde, Avian Biologist
Miranda Butler-Valverde was born and raised in southern New Mexico. She received a Bachelor of Science Degree in Wildlife Science from New Mexico State University. Miranda has lived in various locations across the United States and abroad working on projects focused on a variety of species including ocelots, brown hyenas, American crocodiles, golden eagles, spotted owls, and northern goshawks. It was through these different opportunities that she became interested in scavenging dynamics which led her to obtain a Master's of Science degree from the University of Georgia studying scavenger feeding behaviors. Miranda is interested in species interactions, bird ecology, and habitat conservation. During her free time, she enjoys hiking, fly fishing, gardening, and cooking. She also collects skulls and likes to identify bird feathers. Miranda is looking forward to her new position as an Avian Biologist for Audubon Southwest where she will oversee habitat improvement projects and assist with the Audubon Conservation Ranching program. Her favorite bird is the Lazuli Bunting.
Judy Calman, Director of Policy
Growing up in Washington, DC, Judy was always fascinated by the vast landscapes of the west, and New Mexico in particular. Halfway through college at the University of Maryland, she did a one-semester exchange program at the University of New Mexico, and never went back! Judy finished her degrees in Biology and Philosophy in Albuquerque, and after becoming involved in politics and activism in the early and mid-2000's, she decided to go to law school. Judy holds a Juris Doctorate from UNM, as well as a Master's in Environmental Policy from the Vermont Law School.
For the first ten years of her career she worked as the attorney for the New Mexico Wilderness Alliance, where she helped protect New Mexico's public lands by opposing damaging projects in sensitive areas, working with agencies to improve project proposals, nominating special places for federal administrative designations, and through litigation when absolutely necessary. Judy was also the organization's lobbyist and worked at the state legislature for better policies at the state level.
Judy is excited for the next chapter of her life with Audubon New Mexico, where she is focusing on improving state policies regarding wildlife, water, and renewable energy siting, as well as protection of sensitive bird habitat in southeast New Mexico which is heavily threatened by oil and gas.
When not working, she is either swimming, quilting, reading, or drinking good wine with good friends.
Quantina Martine, Water Resource Associate
Quantina (Quinn) Martine grew up on the Ramah Navajo Reservation in Western New Mexico. Her youth was spent with her grandparents during the summer learning the traditional Navajo language and oral history. Her favorite subjects in school were science and math and she found ways to balance traditional Navajo teachings with her love of the sciences. After high school, Quantina joined the United States Navy where she worked as a Machinist Mate onboard the USS Camden AOE-2 based out of Bremerton, Washington. It was always a dream of hers to travel the world and she felt a great way to do that was by joining the military!
After her military career she moved back to New Mexico and earned her Bachelor's degree in Environmental Science and minor in Sustainability. She also has completed course work in Surveying Technology and Geographic Information Technology. Hydrology and climatology were her main interest in college and that led her to a job with US Fish and Wildlife Services (FWS). With FWS she joined the Division of Water Resources (DWR) as a Hydrologist with the Monitoring Team. With DWR her duties were to collect water data, conduct flow measurements, and complete water analysis at gaging stations that are located on the Wildlife Refuge within the southwest region of FWS. She also worked on habitat restoration for several endangered species along the Rio Grande and in Northern New Mexico.
Quantina spends her free time fishing and hiking with her partner in Northern New Mexico, gardening, canning, listening to various podcasts, and playing with her dog murphy, a Boston terrier who loves to play in the water and likes to be constantly dirty.
Stella Reed, Office & Outreach Manager (she / her)
Stella Reed has lived in Santa Fe, New Mexico for more than thirty years. She has extensive experience with non-profits ranging from volunteer at the Wildlife Rescue Centre in Cairns, Australia to management positions in healthcare. Much of her work has centered on education, development, and outreach. Stella holds an MFA in creative writing from New England College. Examples of her writing can be found in The Bellingham Review, The American Journal of Poetry, The Baltimore Review, and the Taos Journal of International Poetry and Art among other literary publications. Her poetry collection We Are Meant to Carry Water, a collaborative work with two New Mexican poets, was published by 3: A Taos Press in early 2019.
A life-long admirer and student of birds, Stella is committed to the preservation of their habitats. She is an honorary member of her granddaughter's Nature Trackers club.
Suzy Santaella, Development Manager
Suzy comes to Audubon with a decade of high-end art sales and more than three years as the lead fundraiser at the New Mexico School for the Arts-Art Institute, the non-profit partner of New Mexico School for the Arts. Suzy sits on the boards of New Mexicans to Prevent Gun Violence and Friends of the Library. She is excited to be a part of the organization and learn all about birds.
Paul Tashjian, Director of Freshwater Conservation
Paul a long-time resident of New Mexico, leads Audubon New Mexico's multi-faceted Freshwater Conservation Program. Prior to Audubon, he worked as a hydrologist for the U.S. Fish and Wildlife Service's Southwestern Region for 26 years. His expertise includes water management and water protection for wildlife, river restoration, water law, and wetland workshop coordination. Paul was the founder and coordinator of the Bosque Hydrology Group, an inter-agency, inter-university think tank that focused on the physical restoration of the Middle Rio Grande. His recent work includes quantifying and protecting National Wildlife Refuge water rights, conducting studies and workshops to improve wetland management, and coordinating river restoration projects associated with Bitter Lake National Wildlife Refuge and Bosque del Apache National Wildlife Refuge.
Tashjian earned a Bachelor of Science in Anthropology with a minor in geology from Colorado College, and a Master's of Science in Geology from Temple University. He also has completed numerous advanced educational courses and professional trainings associated with water law, environmental law, geomorphology, climatology, geochemistry, and hydrology. Paul is a member of the board for the New Mexico Water Dialogue and the President of the Albuquerque Bosque Chapter of Trout Unlimited.
Paul enjoys his work greatly and loves finding creative and collaborative solutions to vexing water challenges. When he's not stomping around on a National Wildlife Refuge, you might find him fly fishing in the Rio Grande del Norte National Monument, photographing Sandhill Cranes near Bernardo, New Mexico, or enjoying a burrito with his family at a local Albuquerque restaurant.
Kanah Waltman, Temporary Community Outreach Coordinator
My name is Kanah Sunny Waltman. I am the newest member of the Audubon Southwest team, Outreach Educator. My job will focus on creating programs for our new Nature Discovery Area at the Randall Davey Audubon Center, with intentionality towards equity and access so that the space can be enjoyed by all members of our Santa Fe and Northern NM communities.
I am a Southwest native. Born and raised in the White Mountains of eastern Arizona. I attended Northern Arizona University receiving a B.S. in Parks and Recreation Management. I enjoyed working for the U.S. Forest Service, National Park Service, Arizona State Parks, and U.S. Fish and Wildlife. These various agencies allowed me to travel and explore our beautiful country!
My three children Joshua (17), Jude (15), and Joy (9) are very active in school, the arts, recreation, and socializing. We love to be outdoors and explore all that Northern New Mexico has to offer. Our favorite activities are on the Pecos River with our English Springer Spaniel, Bimber June and hitting the slopes at Ski Santa Fe. There is never a dull moment! I have always been drawn to waterfowl and the Great Blue Heron is at the top of my list. Their grace and poise along the water's edge is a welcomed moment of peace.
I look forward to spreading our "song" throughout local schools, libraries, community centers, and New Mexico.
Katie Weeks, Director of Community Education
Katie Weeks (she/her) is a self proclaimed nature nerd. Her love was born in the mountains and oceans of O'ahu, Hawaii, and was nurtured by Girl Scout camps and family National Park trips. This passion eventually led her to Kalamazoo College for her B.A. in Environmental Studies, and later to the University of North Carolina Wilmington where she earned her M.S. in Environmental Studies and Education. She joined Audubon in the Fall of 2017. Along the way, she has also worked with the Kellogg Bird Sanctuary, Hawai'i Institute for Marine Biology, Hawai'i Youth Conservation Corps, and taught preschool for several years. Before moving out West, Katie managed a large summer camp program at the Museum of Life and Science in North Carolina.
With over a decade of experience in teaching, environmental, and informal science education, she is a strong proponent for hands-on learning both inside the classroom and out in the natural world. Katie also centers equity, diversity, and inclusion in her educational practice and strategy, informed by both her professional, academic, and personal experiences. She currently serves on the executive team of the Santa Fe Community Educators Network. When she's not leading groups of kids around the Randall Davey Audubon Center or teaching teachers about the joys of outdoor learning, Katie loves to play taiko drums, hike, and make puns, much to the chagrin of her spouse and family.
James Wood, Facilities Assistant, Randall Davey Audubon Center
August 2022 will mark 20 years living in Santa Fe and I am so proud of that. I attended the College of Santa Fe to study photography. I tried my hand at the art world here, and most recently worked five years at the Museum of New Mexico Foundation in the shop's offices. I am so fortunate again to have found a wonderful place to work with wonderful people. I became a Northern New Mexico Master Naturalist in 2021 which inspired me to look for a position outdoors--so here I am and I'm so glad to be here!
The favorite part of my job is working outside and having the opportunity to enjoy birdwatching as I work. The property here has a diverse landscape which offers a lot of variety to enjoy. I'm learning things daily which is bringing me closer and closer to the natural world.
I love spending my off time with my one-year-old daughter, Maeve. My wife Brittny and I enjoy going on adventures with Maeve and our two dogs, Murphy and Rio. We like to garden and spend time outside.
For the longest time, my favorite bird has been the Bushtit. A group of them picking delicately through a piñon brings a smile to my face every time. Pure delight!
Meet our Randall Davey Audubon Center Summer Camp Staff!
How you can help, right now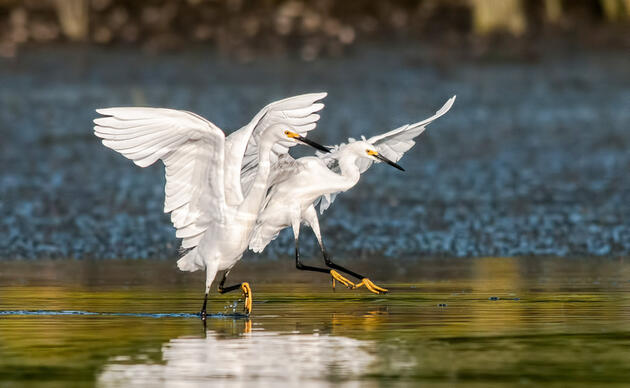 Donate
Help secure the future for birds at risk from climate change, habitat loss, and other threats. Your support will power our science, education, advocacy and on-the-ground conservation efforts.